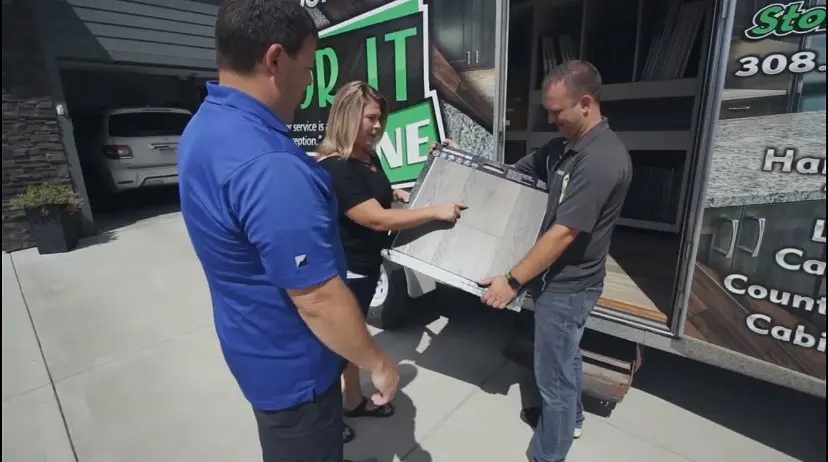 Sales Specialist
Location: Grand Island, NE
Potential Income: $40,000
Looking to start a new career or want to grow in the flooring industry? Floor It Nebraska is always in search of great team members who have a great reputation for customer satisfaction with a strong work ethic. If that fits your character, we are always open to hiring qualified candidates for the following three positions. All offered positions are employee positions so no business skills are necessary to start working with Floor It. However, for select candidates, other options are available if you have the desire to operate your own flooring store.
A flooring sales specialist is a salesperson responsible for guiding customers in selecting and purchasing the appropriate option in a wide variety of available flooring types. However, at Floor It, we make shopping easy by bringing the store to the customer. This is done with our custom designed mobile showroom trailer that has hundreds of different flooring options.
A sales specialist can easily make over $40,000 per year depending on their skillset, personal aspirations, and time management abilities. Supplemental insurance is offered for full-time team members.
Candidates must have a clean driving record with a valid drivers license throughout their career at Floor It.
Benefits:
Paid Time Off
Dental Supplemental
Vision Supplemental
Health Supplemental
Employee Discount
Interested in Applying?
We're excited to meet you and learn more about how you might stand out within the company! Please stop into our storefront to fill out a physical job application during operating hours.
Hours
Monday – Friday
8:30am – 5:00pm
Address
1719 Aspen Circle, STE #10
Grand Island, NE 68803