LVT Flooring / LVP Flooring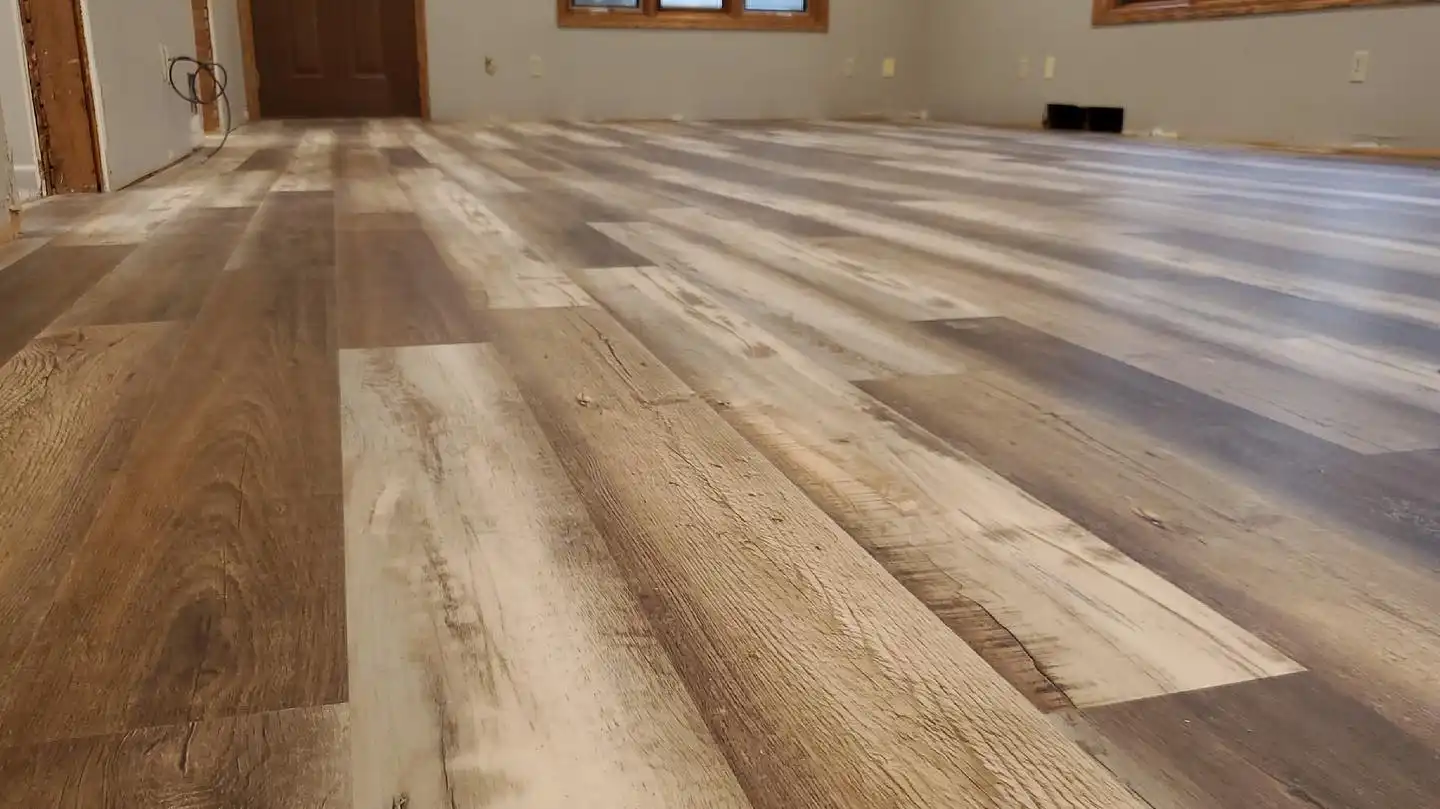 What will you read in this article?
The definition of LVT/LVP
Benefits of LVT/LVP
Types of LVT/LVP
5 Vital Specs to Look for When Shopping for LVT
How its made
What is LVT/LVP Flooring
LVT/LVP stands for Luxury Vinyl Tile/Luxury Vinyl Plank – a product that looks like tile or wood but is typically inexpensive compared to tile and has more benefits than hardwood. This flooring comes in many different sizes, patterns, and shapes. Feel free to browse through some of our options on our products page.
For simplicity, we will use LVT throughout the rest of this article. All topics apply to LVT/LVP the same.
Benefits of LVT
LVT can have a lot of great benefits if you know what to look for. Most LVT flooring is waterproof making it the perfect kid and pet-friendly flooring. It is also more durable than hardwood and can have a long lifetime. The flooring is warmer underfoot than tile. LVT can be used to create unique patterns, borders, and even be used with under-floor heating systems.
Types of LVT
There are two different types of LVT. Glue Down and Floating (aka Click-Lock) LVT Flooring. Technically there are three, but loose lay in the imagination is great just not in real life. We'll save that talk for another day. Glue down is commonly used for projects that are on concrete. Whereas, click-lock is commonly used for projects with wood subfloors. We have found over the years of installing LVT that high water tables/high moisture and click-lock flooring do not go well together. The floating click-lock does not allow the moisture to continue up through the flooring which traps it and builds up water over time. Not a big deal because the floor is waterproof, right?!?! Wrong… When the water builds up, sure it won't hurt the waterproof flooring, but standing water tends to stink up the area and you start to hear the water squishing sounds as you walk across the flooring. (Yuck!) Glue down, on the other hand, doesn't lock together which allows the moisture to travel up through the flooring and evaporate into the air. If you have high moisture, it's as easy as moping up the water in most cases. Side note: check with your flooring store to ensure you get high moisture glue as the glue is usually what fails in this situation.
5 Vital Specs to Look for When Shopping for LVT
There are many specifications to look for when shopping for LVT. Some are showcased on the sample itself, other specifications are worth getting answers to. These 5 vital specs are commonly skipped over which leads to unmet expectations of flooring you spent your hard-earned dollars on.
Wear Layer. This is a very important specification when thinking about how long you want your new flooring to last. Some consumers are remodeling the home to list for sale and others are remodeling their forever home. Both usually have two different expectations of how long the flooring should last. If you're planning to list the home, usually you want good-looking flooring but the lifetime of the flooring is only important up to the sale. Whereas, in your forever home, most consumers prefer not to change their flooring out every 3-10 years. This is where understanding what the "wear layer" is and how it affects the lifetime of the flooring is important. The wear layer is the topmost layer of LVT flooring that provides durability and longevity of the flooring. We have seen the average household get about 1-year per 1 mil of wear layer. (Side note: Mil and Millimeters are two different measuring units.) This number may vary for you depending on how much traffic you have on the flooring, what type of traffic, and how much maintenance goes into the floor over its life. 1-year per 1 mil of wear layer is what we have typically seen the flooring to last over the many years we have installed LVT. Therefore we say, 20mil is equivalent to roughly 20 years. For resale, you should be good to purchase a 6mil product as your home should sell before the lifetime of the product. Forever home consumers, it would be wise to look at 20mil products (unless you want to go cheap and pay for the labor every 3-10 years). We rarely recommend any product less than 6mil as another factor that the wear layer helps with is stain and scratch resistance.
Composite Core is important when purchasing click-lock LVT. The two categories of a composite core are WPC and SPC. WPC stands for wood-plastic-composite and SPC stands for stone-plastic-composite. The composite is typically colored white and is the layer that makes up the locking mechanism. These three letters will factor into the success of your flooring as wood is more flexible than stone making SPC more fragile. We are always leaning towards, rather be safe than sorry. Click-lock works best on perfectly level surfaces, but we all know no home is perfect. You may have a slight dip or peak on your subfloor. If this is not addressed in the prep work, traffic over the click-lock flooring will make the LVT flex. Over time, the locking mechanism will be more prone to breaking due to the repeated flex. This is why we recommend WPC as it is more flexible than SPC. That is not to say WPC won't break, it is just not as likely as SPC.
The backings on LVT. (Side note: Backings and underlayment are two different materials and have two different purposes. We have seen underlayment fail consumers due to repeated flexing in the LVT. Refer to the last paragraph for more details.) Although the backing is important on glue down, we are going to focus on click-lock. The most common backings are cork and foam. Both backings don't allow mold or mildew to grow on the material itself. Where the difference comes is in how the materials react to moisture. Think of a wine bottle for a moment. When you open the bottle and look at the bottom of the cork that has absorbed some of the wine, you will notice it has swelled. Moisture creates more opportunities for the cork to delaminate from the flooring whereas the foam does not react to moisture. And yes we know spilling wine on the floor is not a thing :P, but appliances leaking is…
Speed Bumps. No one enjoys having to drive over them on the road, let alone in their own home. This is why most flooring stores skip over telling you about these pesky requirements. But this should be a question you ask when looking at click-lock LVT. If you don't purchase them when the manufacturer states they should be, it can cause your flooring to buckle and void your product warranty.
Last but not least. How long has the store carried the product? Part of the reason we carry specific products when there are many others out there is due to the years of experience with these products. We've kept the products that we have had minimal to no issues with and discarded the products that have failed our customers. A lot of stores are banking on the fact that most consumers are not educated so they chase new products that are cheap and somewhat eye-catchy. In many cases, the products fail to meet expectations. New products should be used minimally to allow testing on how the products do during the many season changes before promoting the flooring as the best since sliced bread. Season changes provide the product to go through many cycles of expansion and contraction.
How its Made
LVT is made up of usually 4 layers using heat and pressure.
Wear Layer
Printed Image
Composite Core
Backing
What Now?
Now that you are educated in Luxury Vinyl Tile, you can start to browse and collect an estimate. One opportunity we do differently is our free in-home consultations. No money down to get pricing! You won't just get pricing during your free consultation with us… You'll also get to walk into our mobile showroom that parks in your driveway for easy convenience. Check out what our free in-home consultations are about by clicking here or start with browsing some of our products on our products page.