What NOT to Put in Your Basement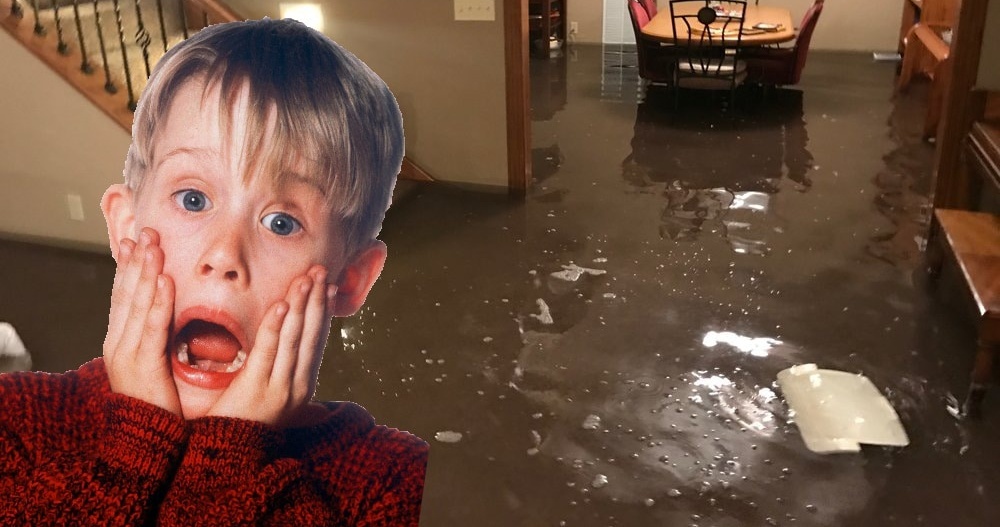 We see a lot of water issues due to the high water tables in Nebraska. Whether it is moisture rising up through the concrete, floods, or other moisture issues in your basement, the right flooring can help save time and money when addressing any moisture damage. In this article, we will discuss what flooring you don't want in your basement and alternative flooring that we have found works well in basements.
Floating/Click-Lock Luxury Vinyl Tile and Planks
Technically you can lay any floor in your basement, but when it comes to click-lock floors you may have more stress if you ever have moisture issues. Floods are easy to point out early and address the issue right away. The issue others run into is moisture coming up through the concrete and getting trapped between the concrete and click-lock flooring. Causing mold and mildew to buildup (this is what causes basements to smell musty) and therefore requiring you to pull up the flooring to create a dry surface again. This will need to be repeated until you seal your basement floor (i.e. permaflex can be used to permanently seal the cracks and pores of your concrete) or the water tables go down in your area.
Stretch-In Carpet
Stretch-in carpet is a common fixture in basements as most want a comfortable and warm floor, but that desire can be ruined fast when moisture hits. In ninety percent of flood scenarios, the pad is game over due to the time needed to get the pad dry before fungal and bacterial growth. The carpet itself is typically salvageable as long as it is dried before the twenty-four to the forty-eight-hour window of mold and mildew growth. Be careful when removing or pulling back the carpet to dry. Tears and/or cuts may hinder re-installation. In other moisture-related issues, homeowners are unaware of any issues until they start to notice a musty smell and see the fungal and bacterial growth showing up as black splotches in the carpet.
Click-Lock LVT/LVP and Stretch-In Carpet are two options we rarely recommend in basements. There have been scenarios where we laid these options in the basement as we used probes to find what the moisture levels are and/or we have had the customer sign a waiver acknowledging the risk.
Ceramic & Porcelain Tile
Tile is one of the best ways to go if you know or are concerned about moisture issues. This is because tile has no organic material to create mold or mildew. You would treat moisture issues as if it was bare concrete. Get the floor dry and move on with the day as you won't have to pull up the tile. We would recommend you to take it a step further and use a product called Ditra by Schluter Systems to act as a moisture barrier so you don't have to worry about cleaning up the moisture that rises through the concrete subfloor. There are a lot more benefits to Ditra that we haven't mentioned to keep this article short.
Glue-Down Luxury Vinyl Tile & Planks
This option is the most common option we recommend to our customers as it has a lot of great benefits. Benefits like easy moisture cleanup, pricing, and not needing a smooth floor. With glue-down LVT/LVP, it's really all in the adhesive when thinking about moisture issues. The standard adhesive we carry is designed to handle high moisture scenarios. Floods are a different story as it is best to re-glue the planks down to ensure they are well bonded to the surface. Unlike tile and click-lock flooring, glue-down LVT/LVP doesn't need to be on a completely flat surface. Glue-down is designed to be flexible and follow the flooring; saving in labor for preparation work.
Permaflex
Due to other natural issues with concrete, (i.e. high relative humidity in your concrete) Permaflex drys like rubber and seals the pores and cracks in concrete acting as a water barrier (we can also use this product on your walls if you have exposed concrete walls in the basement). After this product is installed, we will have no issues recommending stretch-in carpet, click-lock, or other flooring types. Permaflex can also be coupled with Graniflex to create a completed flooring material that can be used for basement, garage, and/or exterior concrete coatings. (i.e. patios, decks, etc.)
The above article is designed to be helpful and utilized under most conditions. However, there are more variants to consider when planning your next project, please contact your local Floor It expert for specific project details.
In the below video, Dustin discusses an overview of what not to put in your basement.